Welcome!

Spanish School Arequipa, provides quality short-term Spanish courses in Arequipa, Peru. We serve people looking to learn Spanish abroad, and travellers who want to take advantage of their trip through South America. Our School is part of and shares installations with Casa de Avila Hotel in Arequipa, Peru. The hotel has special discount rates for our students.
For over 8 years we have trained our students in order to gain confidence and competence as they apply their newly learned language skills to real life situations.
Why Arequipa?

Arequipa is a beautiful city in the South of Peru. Peaceful, sunny 80% of the year!, and with great quality of life compared to other cities.
It's also 20% less expensive and 45% safer than Lima and not as touristic as Cusco. With excellent local opportunities to enrich your learning experience.

A serious School
Spanish School Arequipa has been teaching for 8 years. We do our best effort to provide you with the best teachers and resources in order for you to be able to speak and understand Spanish in short time.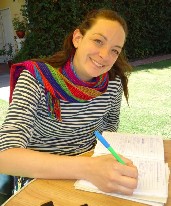 Partnership

We offer a special Spanish program for Colleges and Universities. Having partners throughout Peru, we provide Spanish Classes, Foreign Affairs courses (In English or Spanish), Accommodation, Activities, opportunities to volunteer and all the services that are needed.

Contact us and you will be surprised how easy and fast your Academic Institution can have an Abroad Program in Peru.
Volunteering
We provide excellent contacts with local authorities and institutions willing to develop volunteering projects. If you want to volunteer while studying, we can help you with that. Please inform about the possibilities.
Join Spanish School Arequipa (SSA)

A simple method: We use your motivation as a drive to improve your learning of Spanish in short time.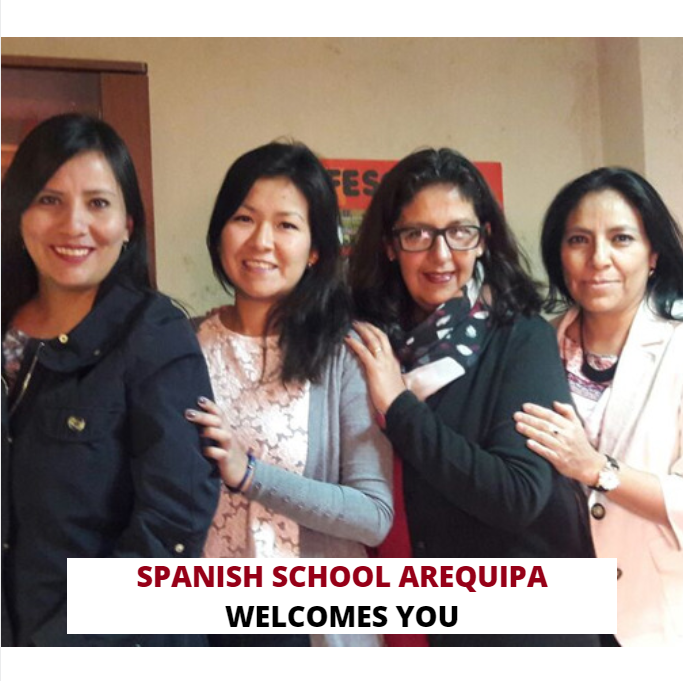 Weekly or Monthly programs
Our famous week program is very efective. Every week you finish one unit. One month is a much better time if you want to get into Spanish beyond travelling. Book online or visit us in Casa de Avila Hotel to register upon arrival. Usually a 48 hours advance registration is needed.
NEW! Hop in Hop out daily classes!
Short stay? take one or two hours or several days. Small Group classes for travellers trying to move ahead with some language tools. From Monday to Friday, morning groups from 9-1PM and afternoon 3-7PM. You can take as many days or hours (2 minimum) you want. Very efective and probed method. Service will be available starting in MAY 2nd.
Best enviroment in Town
Classes are taken in the Casa de Avila Hotel infrastructure. A beautiful place with a main central garden where chairs and umbrellas are the spot most of our students select to take classes. Of course if you are alergic or hate sun, we have also regular classes. Library available too.
We care for your budget
Prices per hour as low as 6.5 dollars if you take a week of classes. Several economic accommodation options, including home stays or lodging in our reasonable priced and highly-recommended hotel. Thanks to our prices you will be able to plan your study time, enjoy a short vacation, and save money.

Devoted and Professional teachers
All of our instructors have academic degrees and are experienced professionals. They are both passionate and compassionate about teaching their native language. Each instructor uses a unique and personalized hands-on approach to ensure that you learn quickly.

Immersion Environment
All programs have the advantage of being in Arequipa. A beautiful city for practising your newly learnt Spanish, full of traditions and history, and all the services you require for your stay. Statistically safer than Lima or Cusco, less expensive than those cities, and all year round pleasant temperatures at a gentile altitude of 2 300 meters above sea level.
Online booking

Check our Web page, and if you are interested in studying with us, register online. If you have some special requirements, do not hesitate to contact us. We will answer your messages within 24 hours.




Testimonials
This has to be one of the best language schools around. I spent 5 weeks in Arequipa, most of it I spent it in the beautiful garden of the Spanish School Arequipa. The teachers are A plus. Also I recommend you to stay with a family and go total immersion. Peter Marras NZ
Spanish School Arequipa is one of the best schools. I learnt Spanish for 6 months. At the first time, I didn't know ANY Spanish. However my teachers were very kind, patient and nice. Also Arequipa is really nice place to live on, nice people and great weather!!! If you want to learn Spanish, I strongly recommend this school. Emiko Kanamura JAPAN
This school is great; for a week , a month or a season. Jeannett and her team are patient, flexible, extremely professional, and FUN! While you're there, sign up for one of the native cooking classes... Norman Hicks USA